A bowlful of colour and joy | The ultimate salad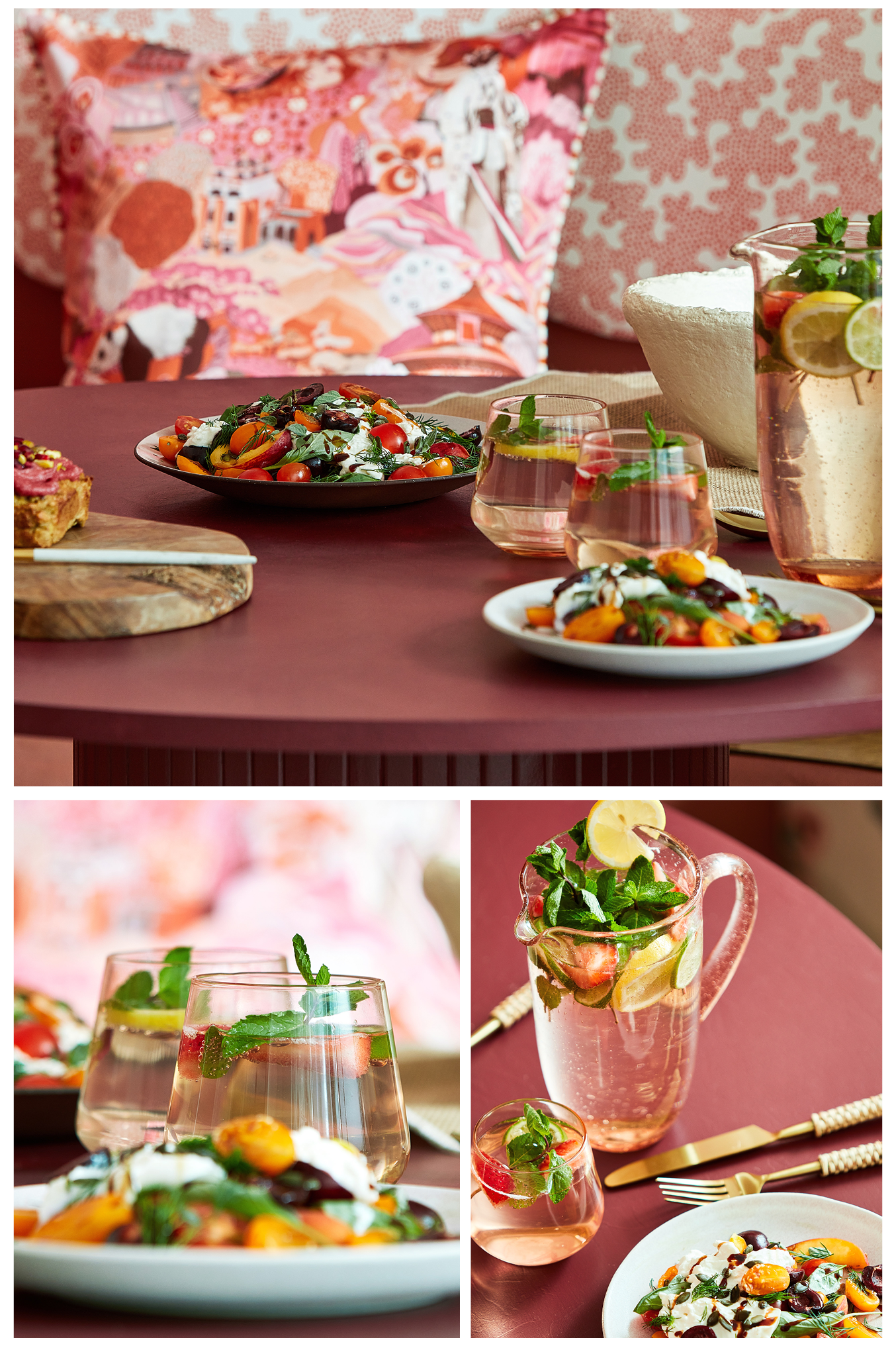 PEACH, CHERRY, TOMATO & BURRATA SALAD, GARNISHED WITH BASIL, DILL, PUMPKIN SEEDS & BALSAMIC GLAZE
A perfect blend of fizzy spring colours and sweet, succulent flavours, this mouth-watering salad sets the springtime table with aplomb, leaving your guests hungry for more.
What better way to welcome friends and family than with a moreish salad bowl, full of summer goodness.
This delicious recipe has been inspired by the nourishing, invigorating colours of summer, from the bursting plump pink and red tones to the sun-filled peachy hues and creamy undertones of softly parting clouds, making way for summer's rays.
INGREDIENTS FOR YOUR BOWL:
3 ripe peaches, pitted and cut into eighths, lengthways
250g cherries, pitted and halved
300g plum tomatoes, halved
2 x 100g balls of burrata
Bunch of basil, chop half
Bunch of dill, chop half
50g pumpkin seeds
1 tbsp honey
2 tbsp balsamic vinegar
1 tsp lemon juice
1 garlic clove, grated
2 tbsp extra virgin olive oil
2 tbsp balsamic glaze to serve
TO PREP
In a bowl, mix the tomatoes, cherries and peaches with the balsamic vinegar, extra virgin olive oil, garlic, chopped herbs, honey and lemon juice. Leave to sit for 10 minutes to allow the vinaigrette to meld with the sweet flavours.
TO SERVE
Place the salad medley onto a large sharing platter and tear the burrata into pieces over the salad.
Drizzle over a balsamic glaze, flourish the remaining herbs atop the salad and finish with a sprinkling of pumpkin seeds.
Watch the video for inspiration, or explore the Retreat look.
posted on 24 Nov 2022 in Interiors