Lisa Dawson Owns The Room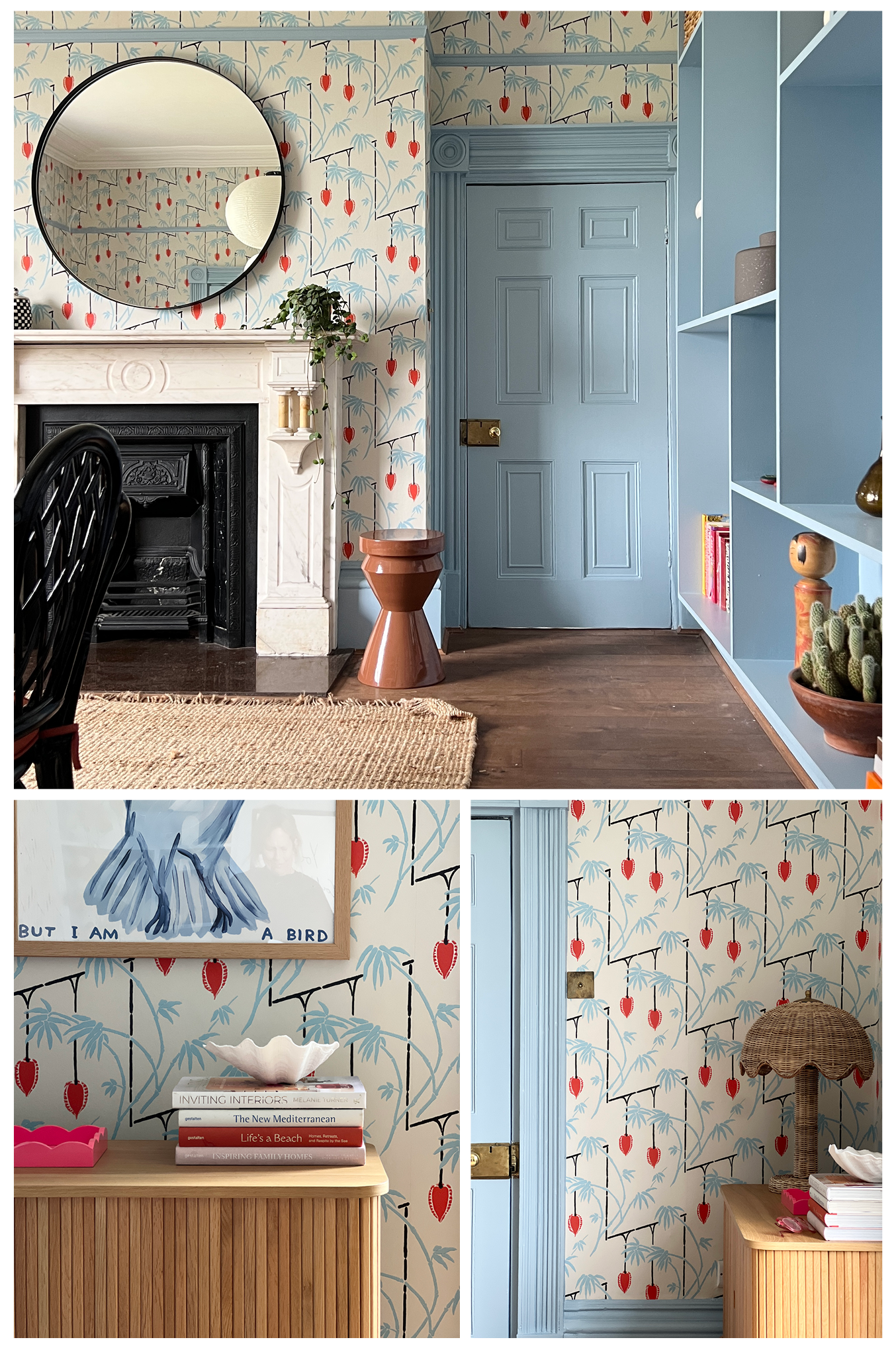 You'll often find interiors obsessive Lisa Dawson transforming her home with a carefully curated combination of colour and upcycled treasures.
You have such an eclectic look. Is this the result of your passion for vintage pieces? 
I love the combination of mixing vintage and modern pieces and have taken this as a starting point for every room that I plan. I believe your home should be filled with items that you really love – whether it be a new investment find or a charity shop thrift - and this makes rooms individual to you. Vintage has history and often, no two pieces will be the same; when you add a new find to your home you are perpetuating the recycling process and creating a home that will last.  I love repurposing and using vintage in multiple rooms; I never buy a piece for one place, it can always be moved around to another space. 
We love how you've used our Kimiko wallpaper – was it an easy choice?
It was a very easy choice! As soon as I saw Kimiko I knew that it would work in my home for two reasons – the design reminded me of my childhood in Hong Kong and I love including items and patterns that evoke memories in my rooms. And secondly, the colour combination was perfect.  Earthy colours and tones are having a big moment – we are all looking to nature and natural textures for inspiration and the sky blue and terracotta were ideal for the space. The pale background kept the room light and bright and I teamed it with soft blue woodwork to match.
How do you ensure colour and pattern sit so well together?
For me, a strong pattern such as a wallpaper or fabric choice should be the star of the show when planning a room. I am not generally a fan of decorating rules but the 60-30-10 rule is a good one when you're using a heavy pattern. 60% of the room should be a dominant colour – for example, I took the blue from the wallpaper for the dining room and duplicated it in the woodwork. 30% should be colour or texture – I used natural materials in the décor and lighting;  bamboo, wood, rattan and jute. And 10% should be a complimentary tone which in this case was the white table and lamp. A big part of any room that I decorate is the artwork which was carefully considered in this instance as I was hanging on a patterned wall. I chose typography which is the perfect juxtaposition to the wallpaper design. I also kept a plain palette throughout the space and added simple furnishings so as not to distract.
How do you make your rooms look so beautifully finished?
The trick to accessorising a new space is to not overdo it. Less is more when it comes to styling a room. Think carefully about your accessories and add items that really sing to you to create a room which reflects you and your personality. I shopped my own home for pieces I already owned which would work, a great way to refresh a space without spending money. I mixed vintage second hand finds such as the table and chairs with newer investment pieces such as the John Lewis sideboard which is one of my favourites. Look to what you already have and add to it with considered new pieces to create the perfect space – you can transform the feel of a room simply by updating the rug or adding new cushions or bedding. John Lewis stock the entire Harlequin range so it's a great place to look for inspiration.  If you're close to John Lewis in High Wycombe or Welwyn, you can visit the Harlequin Colour Rooms to try out the Own The Room quiz, a great way to discover your own interior style with four looks that represent who we are.
We're read about your concept of 'not doing it all'
Don't rush into ANYTHING! You don't need to decorate your whole house in one go, you don't need to fill all the rooms at once. What you choose for your spaces is going to be there a while so make sure that you've planned carefully. Work out where you want to invest and where you want to save and decorate one step at a time. It doesn't matter if you have gaps in the meantime – add a big plant if you want to fill the space. I always create a moodboard for each room I design and it's great fun to add to it and move things around to get the perfect scheme. It's a much more therapeutic way to plan your spaces and there's a lot of fun in getting creative with your own ideas.
We know you love to refresh your home according to the seasons. Have you got any Christmas (eek, using that word in October!) changes up your sleeve?
I love updating my home for every season and that means making our living and dining spaces super cosy with lots of texture and layering. The coffee table is the perfect place to make seasonal changes – a tray with scented candles, a lovely box of matches and some good interior magazines will mean you won't want to move from the sofa! As the evenings get darker, having friends over for social dinners is my favourite thing to do and I love planning tablescapes using vintage crockery and greenery from the garden. It's a hard task to get me to leave the house over the colder months!
Do you have any upcycling top tips?
When I planned out the dining room refresh with the Kimiko wallpaper, I knew that I had the perfect bamboo chairs for the task that I had picked up from eBay six months ago and had been waiting for their moment in the garage. I painted them and used Harlequin fabric in Tabasco, picking out the terracotta orange in the wallpaper, to make new seat cushions. I added these vintage chairs to a tulip style table (another eBay find) and gave them a whole new lease of life. It's so satisfying to repurpose items in this way – not only are you reusing a preloved item that someone has lost the love for, but you're saving it from landfill so that it will last for many more years. Incorporating vintage finds with investment pieces not only adds personality, but also builds a space that is as individual as you are whilst creating a sustainable home.
Lastly, what has been your all time favourite vintage find?  
I have MANY favourite vintage finds, but I think one of my favourites is definitely the white tulip table which I found on eBay and featured in the dining room. It's really solid and works well in any room, whether it's teamed with modern or vintage chairs. It's a good example of buying what you love and not what you THINK you should love based on what you see in magazines or on your social media channels. It's a simple, classic design piece which transcends current trends and lasts forever, and I love that. 
DISCOVER THE HARLEQUIN COLOUR 3 COLLECTION AND ORDER SAMPLES
posted on 03 Nov 2022 in Interiors