#OWNTHEROOM WITH
BHAVIN TAYLOR
For our latest designer spotlight, Harlequin caught up with energetic London-based designer, Bhavin Taylor. His business motto of 'Love Colour. Embrace Pattern' resonates strongly with Harlequin's own approach to design, encouraging everyone to #OWNTHEROOM through self-expression and bold design.
After putting together a stunning concept board from Harlequin's Colour 1 collection, Bhavin shared with us his thoughts on going bold, being brave, and how you can #OWNTHEROOM.
Tell us about your background and how you got started in interior design?
My career started with a short stint in the fashion world, followed by the world of finance for longer than I would have liked - both of which, I was not happy in. In 2009 I decided to take control of my life and looked back on what fired my creativity.  I had always been interested in interiors and decided to go back to school and get a relevant qualification- a decision that I am so glad I made because I haven't look back since!
As much as I firmly belong to the world of interiors, there are still strong links to the fashion world. I see interiors, similarly, as a fundamental form of self-expression. People should be able to see themselves in their interiors just as much as they represent themselves in their clothing choices.
Who or what is your number one inspiration, driving your creativity?
For me, there are two! The first is my Indian heritage and the resulting love of pattern and colour, after a lifelong exposure to Indian cultural festivals, big fat Indian weddings, and flamboyant Bollywood films.
The second, are my clients. From my perspective, a successful interior should be an expression of you and not someone else.  Being inspired and understanding each individual client is crucial, so that I can cater my design style to suit them, as well as knowing where I can push and encourage them to leave their comfort zone.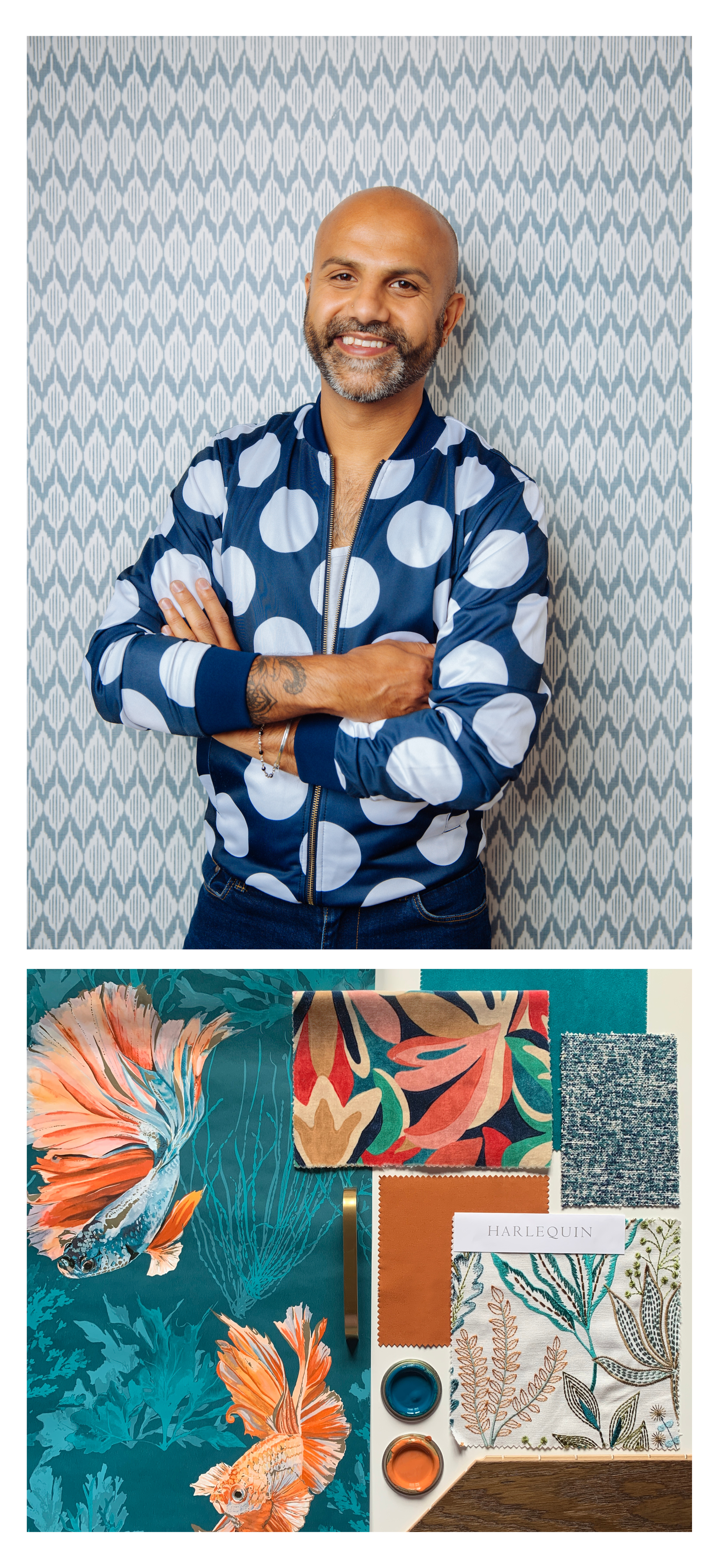 You use Harlequin products in many of your schemes, past and present. What draws you to the brand?
The simple answer is that we both have similarities in our design styles.  I'm all about bold colours and bold patterns, as is Harlequin.
I am aware that my style, in its boldness, isn't for everyone - and I'm happy with that!  It's all about finding the styles that help me stay true to my brand and Harlequin is without doubt one of them. It's so important that I use brands that can assist me in pushing the boundaries of clients so they can discover new and exciting ways to express their true selves in their favourite spaces.  So, it is great to know that there is a brand portfolio that I can reliably source from.


#OWNTHEROOM is all about personal expression and freedom in design. How do you advise clients to reflect themselves in their spaces?
We're all individuals, with completely different personalities, therefore your space should be as individual as you are. Every day you choose to dress and style yourself in a way that represents you, so why would you decorate your space like Bob or Mary's down the road?
Instead, when designing your interior select items that you are drawn to, listen to your gut, embrace your instinct, and focus on you.  As a result, you will be surrounded by the things you love and your space will reflect you.
I'm not a fan of the word 'trends'. Generally, I urge people not to follow them as they are not catered to suit everyone's tastes, and very quickly go in and out of fashion. Instead, I encourage my clients to focus on themselves and potentially be a style inspiration for others.
I took Harlequin's Personality Quiz as well, to learn more about my perfect look. Surprise surprise, I got the bold and colourful 'Rewild' look! Tools like these are so useful in deciding which product really speaks to you as a person!
As a final note, I always remind clients that it is their opinion that matters. Not mine, not your besties, not your mother-in-law's, just yours. My whole design philosophy is based on one simple fact - a space should reflect the people that use and live in them!
For the scheme you created from the new Harlequin Colour I collection, how did you insert your own personality?
I created a design scheme which sums me up 100%. Full of colour, pattern, and personality. I started with the Halfmoon wallpaper because I was instantly drawn to it.  A prime example of how everyone should choose their décor – follow your gut.
I paired it with the Melora fabric, again because I was instantly drawn to it, but also because of its similarities in colour tones and how it introduces additional colours to the design scheme.  I love how it injects a different style of pattern into the mix. For many, this pairing might not work as they are two quite different patterns, but I believe that mixing styles is what makes things interesting and can elevate your design. 
 To add further interest, I selected different textured fabrics and strong paint colours that have a connection to both the Halfmoon wallpaper and Melora fabric.
How can the industry do more to champion under-represented designers?
Stop talking and start doing!
A huge part of #OWNTHEROOM is about ensuring everyone, no matter their background, feels they can be expressive in their space. What tips do you have to help others #OWNTHEROOM?
1. Always be true to yourself
2. Listen to your instincts
3. Don't be afraid
4. And most of all… enjoy the process!
Like Bhavin's style? Check out his website here. 
Ready to #OWNTHEROOM and discover your perfect look? Take our Personality Quiz, to find design that reflects you.
Order samples and discover your perfect look today.