Anna Jacobs Owns the Rented Room – Colour coded living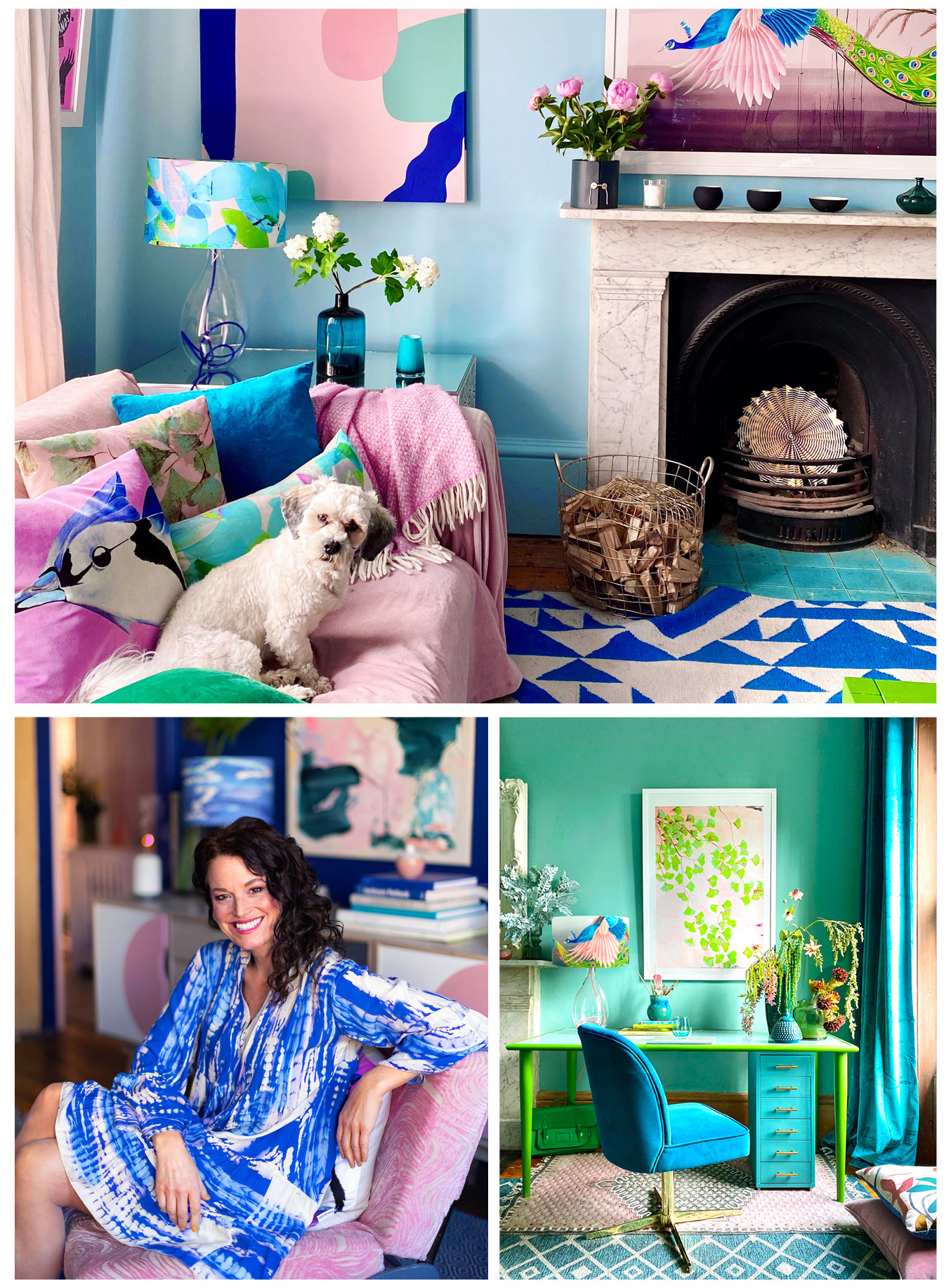 As a homeware designer, co-host of a super successful colour focused Instagram account, @colourfiedhomes, and teacher of all things colour-oriented, with an apartment palette to rival our own design studio (see part one of our conversation with Anna), Anna Jacobs, to put it lightly, knows colour and how to own it. Her own emotional response to colour, has allowed her to express herself in ways that have uplifted her home life and helped carve a career out of her obsession with palettes.
Anna's career path so far is a testament to the idea that good design and colour confidence can stem from anywhere.
"I'm a homewares designer and passionate about colour, designing with it, living in it, wearing it and teaching it. However, this is a whole new career for me, which I started in my mid-40s. After a Classics degree and then a Masters in Gender & Social Policy at Bristol Uni, I worked as a singer and in theatre marketing and production, ending up heading up the marketing and business development department of a big city law firm in London.
The lightbulb moment came about when the craving for creativity hit 
"I decided to give it all up to become an artist and designer, doing what all my art teachers at school had said I should do, which was to earn my living through art. When my eldest started school I had my first solo show of paintings and three years later I launched my homewares brand." 
Recently, Anna has joined up with journalist, Martha Roberts (@the_colour_file) and producer, Melissa Fitzgerald, to start a podcast - The Colour Clinic, which launches soon. On choosing colours that express her personal style, Anna explains that it is more than a visual connection.
"I'm quite sensitive to colour and viscerally feel the effects of different colours in daily life, so, where possible, I make sure I'm surrounded by the right colours. Certainly, in my own home and in what I wear!"
Harlequin's White Paper provided Anna with some insightful links to her own experiences with colour and wellness. She explains that a period of ill-health realised a connection to colour that now plays a huge part in her appreciation and manipulation of shades and tones, both bold and serene.
 "During that time, my warm pink living room started making me feel physically nauseous - I couldn't even look at it - I had to sit on the sofa, facing my blue and green kitchen, which in contrast made me feel physically better. On the day I returned home post-surgery I could suddenly look at my pink living room again and enjoy it. I was fascinated! It was this that really sparked my interest in how colour affects us.
"In my own home now I use a lot of calming, healing blues and greens, particularly in my bedroom, where I also work. I've added warm yellows and pinks in the bathroom to make it feel welcoming and joyful – somewhere to feel cared for and restored. I also dress in a lot of colours now."
With Harlequin's ethos of empowering everyone to #OWNTHEROOM, Anna's experience and passion for colour show how understanding your own physical and emotional reactions to it can revolutionise your home space.
"The key to being colour confident is to find out how you personally react to certain shades and tones. Our response to colour is affected by a variety of factors – physiological, cultural and societal. It's also affected by our own personal history with colour. Forget trends and forget theory to start with, once you understand your own relationship to colour, consider how you want each space within your home to feel. You can then start matching the feel you want with how you know you respond to various colours. This approach will mean you will use colours in your home which you can be confident will truly enhance your wellbeing. Then start experimenting and have fun!
"Harlequin's #owntheroom movement encourages that sense of ownership of space, in which you can be as original and personal as you like. Start small, then, as you gain in confidence, you can incorporate more colour through bold upholstery choices, fabulous wallpaper, and great colour on the walls."


Like Anna's style? Follow @annalysejacobs or check out her website annajacobsart.com.
MORE FROM HARLEQUIN
Learn about the science of colour in shaping and expressing who we are, through Harlequin's specially commissioned White Paper, here.
#Owntheroom is all about you. Take our Own The Room Quiz, and discover a style that reflects you.
Order samples and start your own colour journey at Harlequin.
SHOP THE LOOK AND #Owntheroom