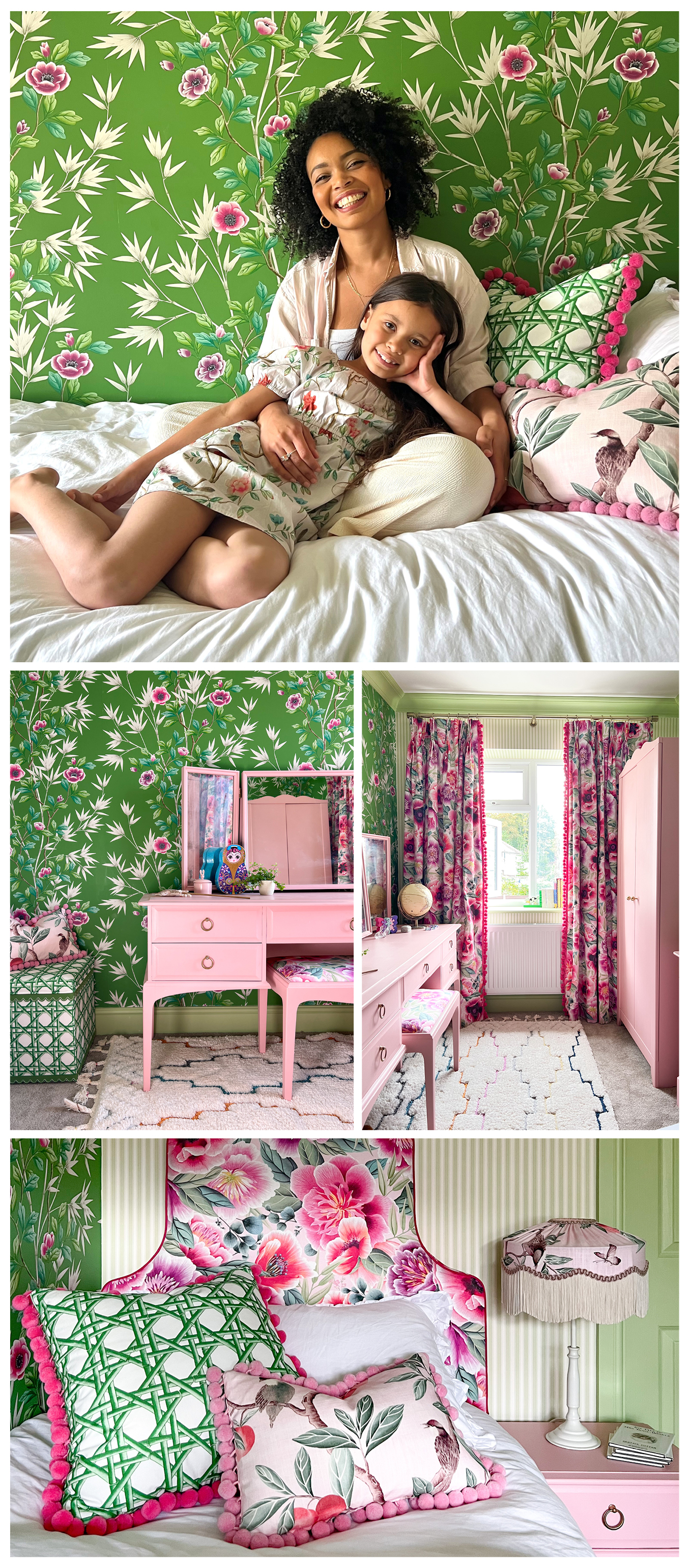 We're so excited to catch up with Diane Hill as she talks renovations, chinoiserie and making a space your own.
We've been following your renovation project on Insta – how's it going?
It's going brilliantly, thanks. We're almost finished and so far, everything seems to be working out well (touch wood). We're fortunate to have an amazing team of trades men and women working with us and that's such a huge part of minimising the stress in any build.  
It looks like your bedroom was the first space to get a sprinkling of Diane magic
Absolutely, I've wanted to revamp the bedroom for ages. Even when drawing Florence, I was imagining how it'd look in position and it's totally exceeded my expectations. I pulled out key colours for shelving and accented with cushions in Marsha and Lady Alford to really make the room come alive.
Now it's your daughter Bonnie's turn for a new look bedroom. Was it hard saying goodbye to your original design?
Oh, it really was! The design I drew in Bonnie's room was where everything began – without that (and the power of social media) I'm not sure I'd be talking to you now. Hard as it was to plaster over my original painting, it was super exciting to use some of my new designs and now Bonnie is older, she loved getting involved, choosing her favourites from the Harlequin x Diane Hill collection.
Isn't it unusual to see chinoiserie in children's rooms?
Nowadays yes, but the thing about my designs is that they're for everyone. They're accessible, colourful and I want people to feel confident is creating interiors they love. Bonnie chose everything herself, even down to the pompom trim on the curtains. The cushions came from her wish to add even more pattern and detail! There are no rules about where you can and can't use my designs – just go with whatever make you happy.
Also, it's important for me to use designs my kids can grow with – there's nothing worse than having a scheme that no longer works after a couple of years. Plus creating a room that lasts helps keep the financial side of things under control.
What are Bonnie's favourite designs in her new bedroom?
She's a huge advocate of colour and absolutely adores her new headboard, which makes her feel like a princess. Another favourite is her new art desk, it's got two drawers underneath where she can keep all her pencils and paints – this little desk represents so much joy and happiness (especially as she no longer needs to draw perched on the floor)!
What's next on your project plan?
We've just finished the powder room and it looks incredible! I've used Rosa in Feather Grey on all four walls and chosen some fabulous gold mirrors and wall lights to create a sophisticated space. With winter round the corner, I'm super keen to make my home a cosy place to be.
The living room is well under way too. I've made some large statement artwork to hang either side of the fireplace using the Florence wallpaper in Powder – this is such a great way to add a personal touch! Jane Clayton made some beautiful curtains from Lady Alford in China Blue and some bespoke cushions too, which really brings the whole room together.
By reducing the number of colours in a room, the palette becomes less intense and more tonal. As the whole family will spend time here, the space needs to work for everyone, so I've used a scheme that's based around calming blush, whites and blues. The addition of some floaty Harlequin voiles has definitely added a touch of glamour to a once empty, newly built shell!
We've noticed you've got a few items covered in your fabrics
I have! Made to measure items are another fantastic way to make a space your own. I ordered some cushions in Marsha and Lady Alford for my bedroom, which add joyous pops of colour and bring the whole scheme together.
Your design journey started off with Bonnie's nursery back in 2016. Are you excited to be decorating her room again?
I am, it's a new chapter for us both. Now we're creating a room for a bubbly seven year old, who's full of her own design ideas.
Where did your inspiration for Bonnie's room come from? How involved has Bonnie been or does she leave it to the experts?
Bonnie's room is entirely her own creation. I showed her the designs from my collection with Harlequin, and she chose all her favourites, including the colourways. Bringing her ideas to life has been such a wonderful experience and a strangely cathartic process!
What part of the room excites you and Bonnie the most?
To be honest, the whole thing is incredible. It works amazingly well and I'm so proud. Bonnie can't wait to show it off to her friends (and neither can I!).
The room has lots of bold patterns and colours. What advice would you give to someone to achieve a cohesive scheme like this?
It's all about confidence. So often people are afraid to use colour, especially lots of it. If you're unsure, pick three of four colours to build a scheme around. Also, mixing up scales within the same palette works really well. Be fearless and go with what you love – after all, our interiors are expressions of who we are.
What advice would you give anyone who is considering purchasing a made to measure soft furnishing?
Jane Clayton's made to measure items are beautiful. Everything is handmade in the UK, so the quality is amazing and you know each item is going to last well too. Getting something made to measure means that it's going to look perfect and the chances are, you'll keep it for longer as it's exactly what you wanted and the room needed!   
We love your bespoke curved headboard design! What made you choose this design?
I was madly inspired by Kit Kemp – she's the headboard queen and makes headboards look like art. You wouldn't normally see something this decorative on a single bed, but we were going for a full-on princess vibe, so it works brilliantly.
Visit the Jane Clayton website to explore their full made-to-measure service and transform Harlequin's stunning designs into headboards, cushions, blinds and curtains so you can #OWNTHEROOM.
posted on 14 Oct 2022 in Interiors