Diane Hill: the artist behind the brush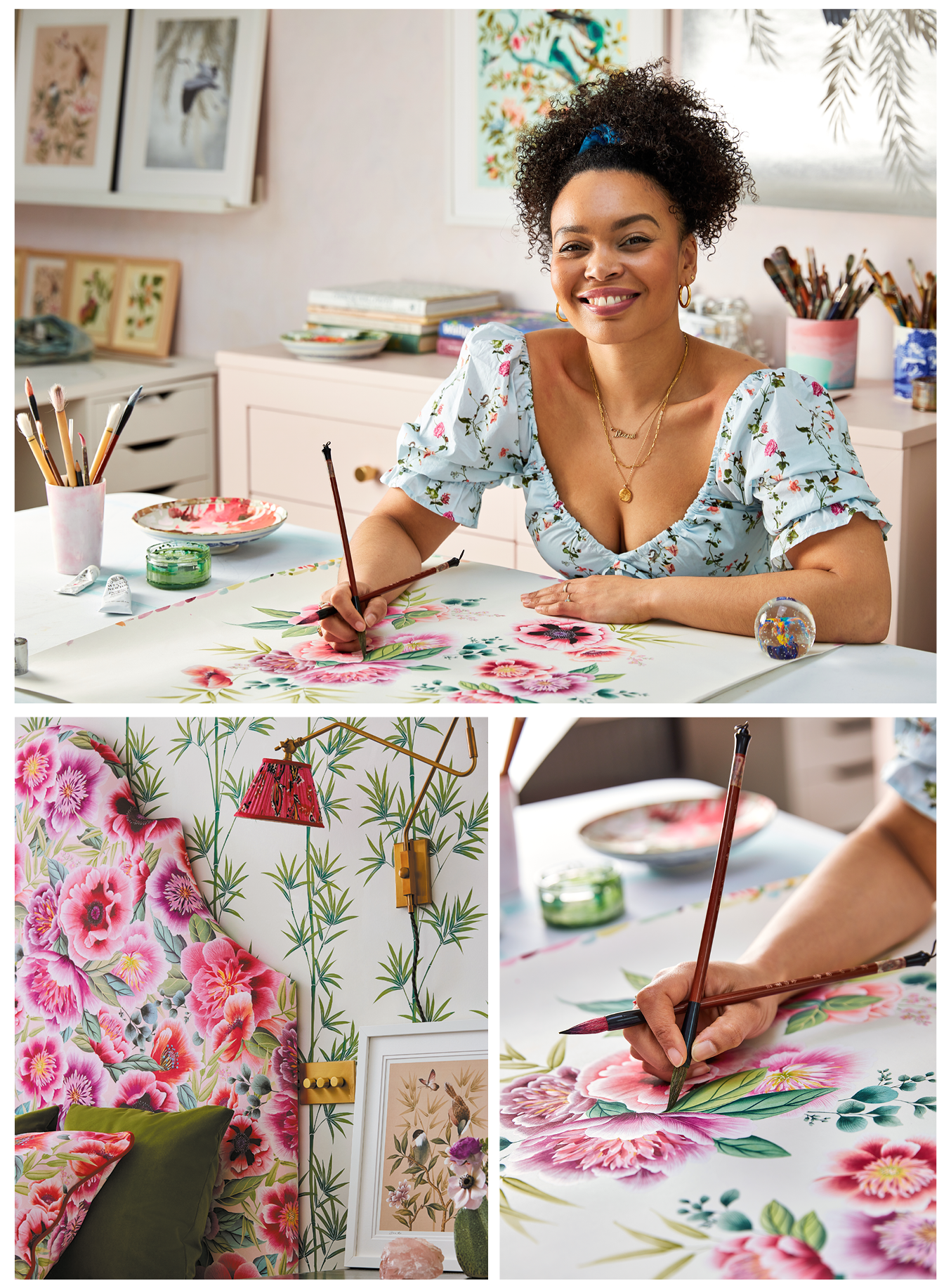 Diane Hill's new collection for Harlequin, inspired by the beauty of Chinoiserie, takes a fresh look at art for the home, in wallpaper and fabric form.
If you had told Diane's younger self, that her artwork would be transformed into wallpaper murals for all embrace in their homes, she may not have believed you. As we celebrate the launch of Harlequin X Diane Hill, we sat down with Diane to learn a little more about her beginnings as an artist and how Chinoiserie came into her life.
What was your first experience of art that made a really big impact on you?
There wasn't a single moment; I've been painting since I had the motor skills to do so. From the day I arrived at nursery, I declared "Miss, I want to do painting!". It has been ingrained in me from the start. From school, through to college and Manchester university where I did an art foundation, then into a job where I was straight in hand-painting wallpaper, this has been my whole life so far.
Where and how did your career begin?
I studied textiles at Manchester, but it was very painting focused. I remember a moment, when I was looking through a book all about wallpaper and I spotted these Chinoiserie wallpapers. I had only ever seen repeating wallpaper before and there, in this book were these panoramic scenes. It was so different. I had all these curiosities about how they did it and where the joins were. After discovering that it was hand-painted I researched and found that were one or two companies that made these murals. I wrote to them (an ever-keen student) and managed to get an internship with Fromental for a week, to go and paint with them. After that I stayed in touch and even handmade something for them and took it to a party I was invited to by the company – this was my younger self just desperately wanting that one job, and I still can't believe they gave me a position, two days a week, where I was hand-painting wallpapers.
That book and that career start really made the difference to me because traditionally, this kind of art is produced predominantly in China, and in the whole world, there are less than a handful of companies who produce this kind of work. To have that under my belt is just unbelievable. I would never have imagined, back at university, that I would be doing this kind of work on silk.
You also travelled to China to study Chinoiserie up close and at the source, what was that like?
It was only for a week in the studio but it was super intense and so valuable. I was travelling around as well, doing touch-up jobs in Hong Kong and Macau, at the same time as painting. I mostly learned my craft on the job in London, visiting houses for touch-up work, repairing papers. In China, I was really refining what I had already learned. I had an instant connection with the silk and the brushes and that was just so exciting to me. While I was in China I learned more about the various ways of the art form. One was very precise, building up layers, drying in between, and another, called 'unconscious' was where you almost dance around the paper. A piece could be done extremely quickly, as it was a much looser expression but was actually very difficult to master. I stuck with the more precise, slower process. It was more 'me'.
Who are your other design inspirations?
I love to source inspiration from Chinoiserie wallpapers found in National Trust houses, as well as a lot of Chinese and Japanese art. There is a particular artist – Ohara Koson (a Japanese painter and woodblock print designer) – and I'm obsessed with his work. It's the oriental style, the composition – they are truly on another level of creating beauty. It's not just the wallpapers either, it's the entire movement of Chinoiserie – the porcelain, the furniture. I have a lot of books on decoration, including Art Deco and Art Nouveau, and silk kimonos, embroidery. Decoration is largely where I take my inspiration.
Of course, artists like Henri Matisse and Raoul Dufy inspire me hugely as well. The colour and expressionism are so powerful, and you can see in my work that it is a hybrid of these expressions, inspired by traditional art forms with a fun, fresh twist.
I have an album on my phone, where I store photos that I have taken on the street, I can't walk by a flower, without photographing it. My recent work stemmed from my neighbour's hydrangeas. I released a whole collection of hydrangea pieces from that one source.
What is the design or series of work that you are most proud of?
This! Working with Harlequin by a clear mile. I'm just so excited by it. I've just had my bedroom papered in the wallpaper and I keep walking past it and stopping because I can't believe it's my work come to life. The room I painted for my daughter was the start of it all and now my bedroom shows this refined evolution of that work. When I created that mural for my daughter, I did it because I wanted it myself and her room offered the small scale to test it out. Have never grown tired of looking at it either. Everything that I have learned over the past six years has gone into this collection. Harlequin has allowed me to express myself in a way that I had not been able to for a long time.
This collection will inspire all of my work to come. Harlequin has found something in me and brought it out, that was previously quite suppressed, and there is something in the collection for everyone, I hope, from the colouring to the intensity of the pattern.
DISCOVER harlequin x diane hill COLLECTION
posted on 21 Apr 2022 in Interiors