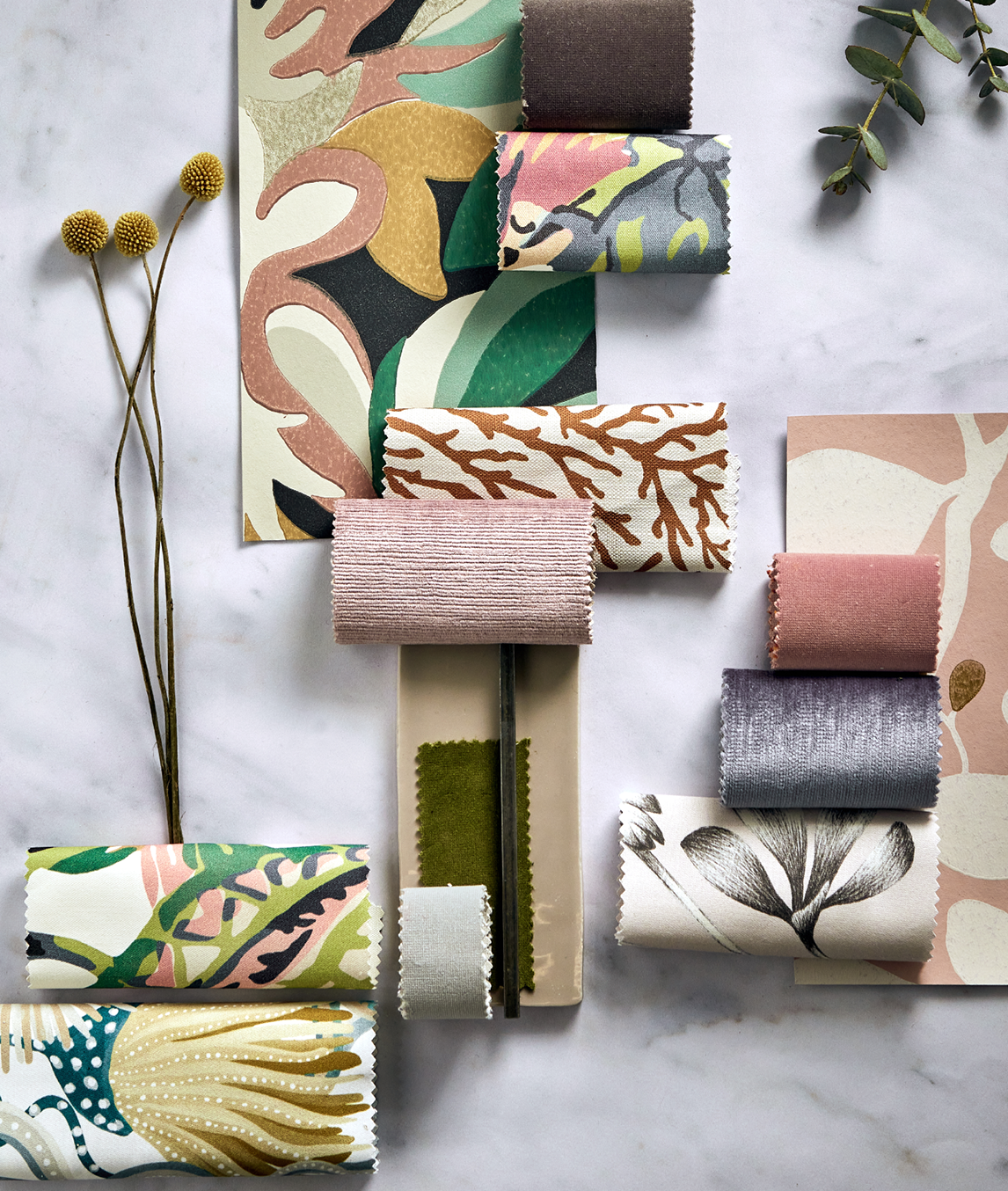 Moodboarding can be an empowering tool when changing up your home interior. From base colours to layering textures, exploring your own personal home style can reveal colourful results
Beginning a home redesign can be overwhelming. The sheer volume of options, the colour charts, Pinterest pins, IG saves and every home interiors magazine in between, inspiration is everywhere, but finding your own style in this sea of style can start and flourish much closer to home.
Claire Greenfield, Lead Designer, and Liberty Blackwell, Senior Interior Stylist, Harlequin, share their love of moodboarding and offer their top tips to creating a home full of colour and personality.
That something special
Our homes are filled with treasures we hold dear. Some we don't even realise have formed the very epicenter of our design style. When beginning any new project, Claire Greenfield, Lead Designer, Harlequin impresses the important of that design spark and where you might find it, "Start with something special. Something that inspires you that you really gravitate towards. It could be something very unique or special that already exists within your home, like a simple vase in a striking colour, or perhaps a piece of artwork. No matter how insignificant it may first appear, ask yourself, does this little spark of design make your heart sing? Does it excite you?
"With artwork it can be a hue from the background of the painting, not necessarily the main focal point, that has highlights of a particular colour that pulls your heart towards it. Design is emotive so the process of mood boarding should always start with something loved.
"The colour of this piece of inspiration is central to your mood board. It must be attractive to you as this is your base for your palette. It's very powerful to think about how one colour can inspire an entire scheme, beyond the one room you're considering, but flowing through your entire home. Without letting the project become bigger than you, think about this base colour palette as an anchor to your home design, seeing it pop up in fun and unexpected ways throughout your home."
Ample samples
From your initial 'object of inspiration' you can start to build a scheme. Get online and source as many samples as you can. Consider papers as well as fabrics, embroideries and weaves. The variety of textures not only helps to bring together a scheme but also offers up variations in colours and their tones. Remembering your core colours will help guide you through the sample process, as Claire says, "With these anchors to the scheme you'll find endless permutations of your colours in various shades and tones that you can mix and blend, playing with on your mood board until you start to refine your scheme."
Find your look
Still not sure where to go with your design starting point? Take our Quiz to find out which 'look' you lean towards. Are you relaxed and reflective in your style or bold with a wild side? Claire says, "Taking our Own the Room quiz can really help with establish your style from our four looks. If blue is your colour, it's important to establish if you love the tranquil tone of flowing water or the punchier aqua colours."
A strong base
Liberty Blackwell, Senior Interior Stylist, Harlequin, has a process of selecting the star of her show for mood boards. She says, "I usually start an interior scheme mood board with a wallpaper or fabric that I love. From there you can create your colour palette by picking out the colours within the design and adding some bold accents through textural plain fabrics or paints."
Claire agrees, adding, "from your design anchor, select one room wrapping colour (perhaps a wallpaper), a base colour and one or maybe two accent colours. This selection could form the base throughout your home. Design isn't about finding a theme in each space, but distilling down colour and even patterns that you love and accenting them throughout your home. It can tell a beautiful design story from room to room. Everything should flow in harmony, even with striking and bold colours in the mix."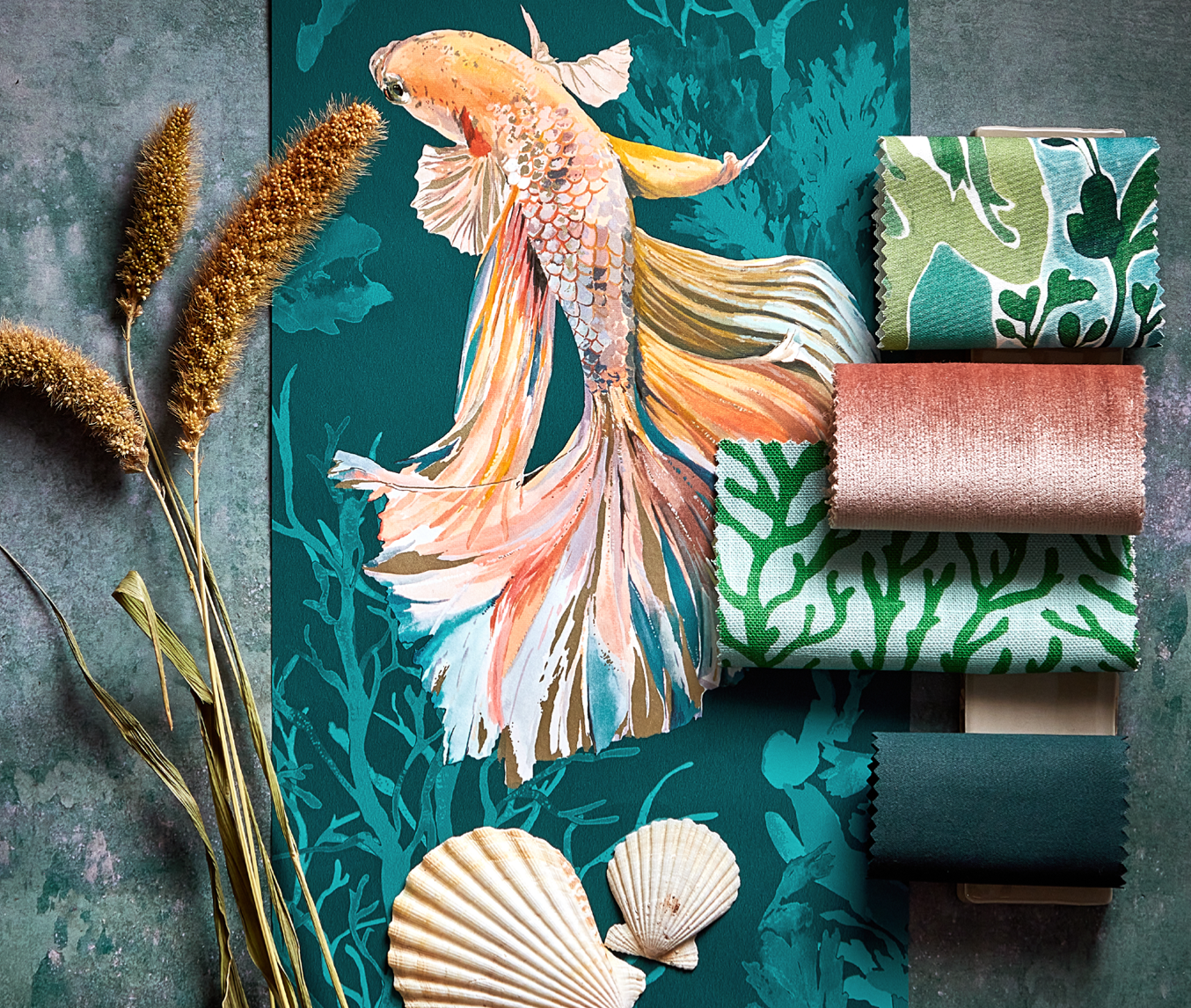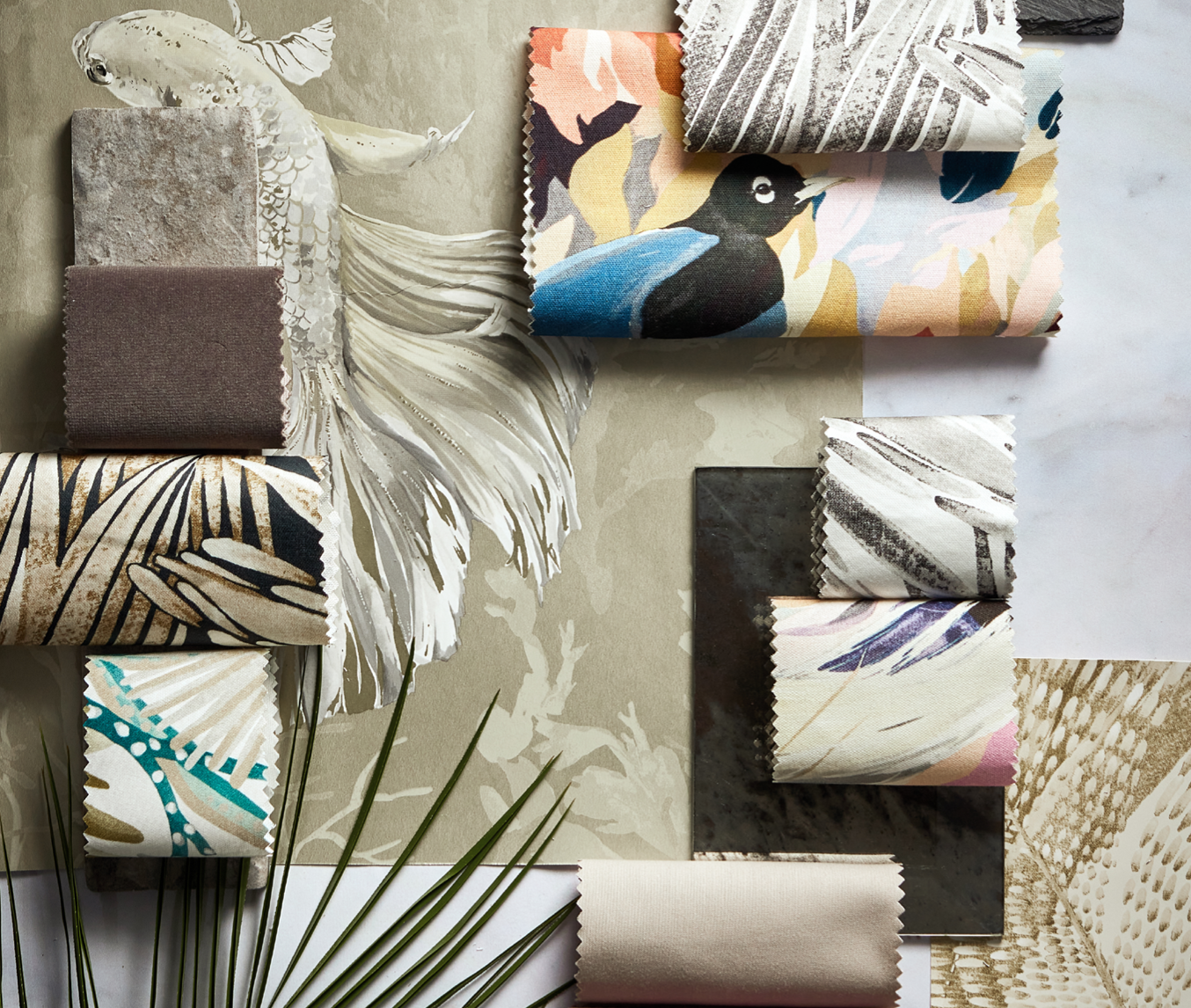 Get creative
Once your samples have landed through your letterbox, its time to get creative, placing favourite wallpapers and fabrics together, referring back to that central item/piece that speaks to your design story. Liberty says, "collate all your fabric samples and start to add to the mood board - it helps to bring in a mixture of plains, textures, small scale and large-scale prints to the table and from there you can add or take away as you get more detailed in your design scheme."
Claire notes that scale often come to light at this point, when you have the actual samples at hand to work with, "Scale can be played with at this point of your moodboard. Ordering samples isn't just an aesthetic decision, it's also a very useful design tool as scale can be hard to judge from imagery online. Ordering fabric, embroidery and wallpaper samples to your home to create with can give you great perspective on how a particular design will sit in your home.
"Having physical samples is key here for understanding texture, layering various prints and patterns and also for testing against natural and artificial lighting. Move the board around your home so you can see how colours change in light. There are some metameric colours that differ greatly depending on where you have them in the home. They are light changing, which can morph a scheme from cool to warm or vice versa, in its simple application."
It all comes back to colour
That initial colour palette you started with can grow into an incredibly personal and powerful design scheme with these tools to hand. When thinking about your home specifically, it is exciting to see a moodboard come to life in your own personal setting. Claire adds "Pay attention to the architectural detailing in your home as well. Is your home new and modern, light and airy, or does it have lots of original features in the form of mouldings and fireplaces? How does your chosen palette work with or against these features?" Liberty concludes, "Sometimes it's surprising what colours can work well together – this is why moodboards are so useful when designing a scheme, you can be brave and play around with different prints and colours before making a commitment to them."
DISCOVER THE LATEST COLOUR COLLECTION
posted on 29 Jun 2023 in Interiors