Harlequin Spotlight with Rukmini Patel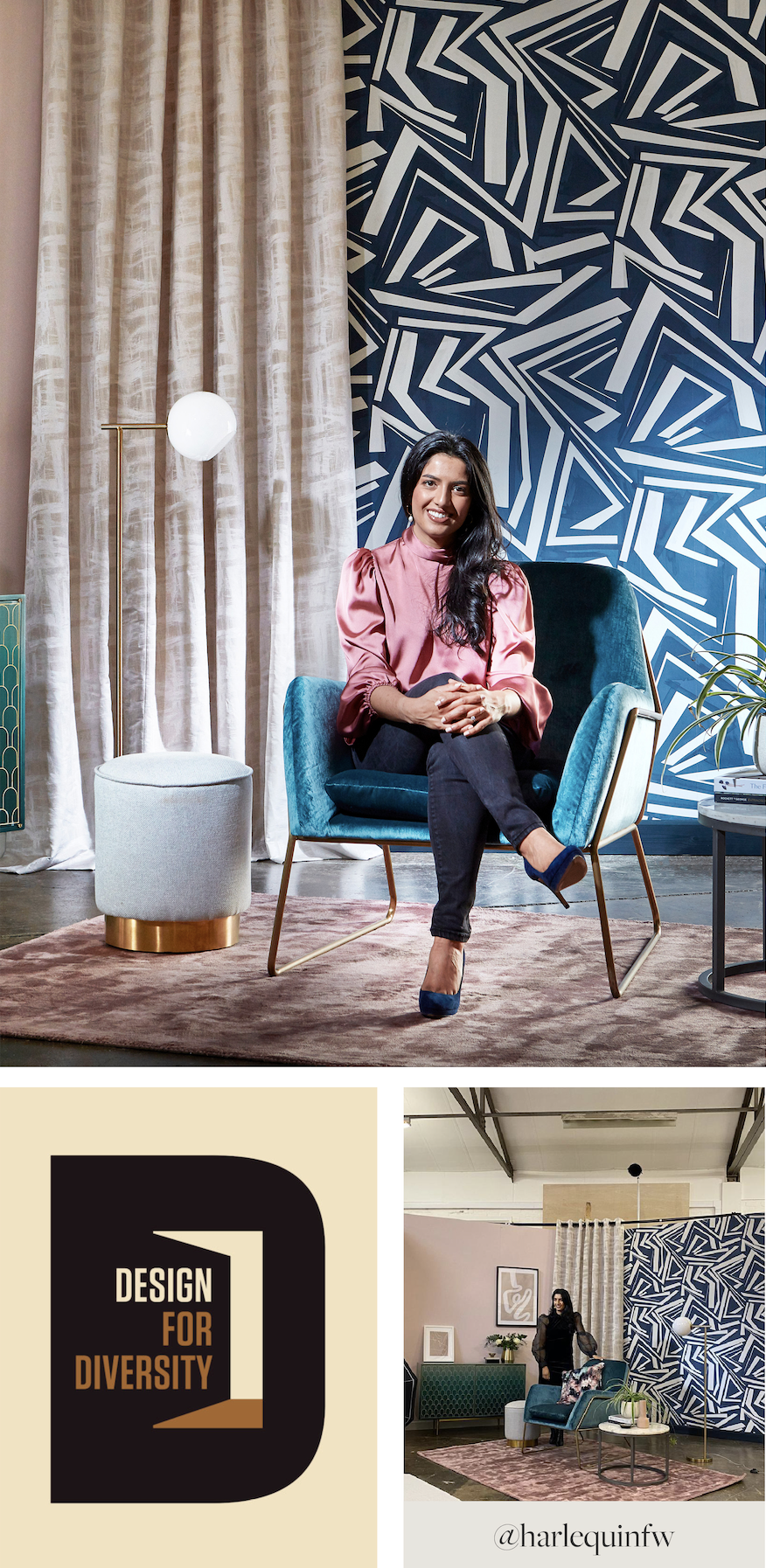 Following on from the launch, Harlequin caught up with the interior designer herself, talking all subjects from design inspiration to women's empowerment. This is the first in the series of Harlequin Spotlight, where the brand platforms the voices of inspiring design enthusiasts within the interior design industry.
TELL US ABOUT YOUR BACKGROUND AND HOW YOU GOT STARTED IN INTERIOR DESIGN?
I decided to leave my career in banking as I felt creatively unfulfilled and a huge desire to be my own boss. I knew I had a knack for interior design as I was frequently complemented on my then flat- so I felt like it was something I was naturally good at and enjoyed! I decided to get the professional skills needed to be a designer, such as learning how to draw floor plans, design, and presenting to clients.
HOW DID YOU BEGIN DESIGNING YOUR OWN HARLEQUIN EDIT WITH THE MOMENTUM RANGE?
I wanted to create a contrast between the patterns and colours and was able to do that really easily with this collection. Using the soft pink curtain gives the eye breathing space from the busy geometric patterned wallpaper. Finishing the scheme with gold accents gave the design a high-end finish.
HOW DID YOU INTRODUCE YOUR OWN PERSONALITY AND SIGNATURE STYLE INTO THE EDIT?
It was really easy to bring my signature style and colours to the Edit as the collection had wallpapers and fabrics in pink and blue which are my go-to colours! I used styling pieces from my home like the gold vase and abstract print and these are often the design choices I use with my clients.
WHAT IS YOUR FAVOURITE DESIGN FROM THE NEW MOMENTUM COLLECTION AND WHY DID IT STAND OUT FOR YOU?
Oh, good question, so many to choose from! I think it would have to be the wallpaper in Transverse Ink. It's really striking and bold. It makes a great statement and can be paired with a neutral as I have done.
WILL YOU BE USING ANY OF THESE PRODUCTS IN UPCOMING SCHEMES OR IN YOUR OWN HOME?
I am loving the Extensity Calico/Ebony cushion it works really well against my grey sofa. I always add a little bit of black in my designs and it just makes everything else pop!
WHO OR WHAT IS YOUR BIGGEST INSPIRATION, DRIVING YOU TO DO WHAT YOU DO?
Watching Kamala Harris become Vice President has been hugely inspirational especially as the first Black and South Asian woman. I feel like changes like these have a ripple effect and even though we may be in different countries she represents hope to me, hope that women from ethnic backgrounds can be leaders or have the opportunity to pursue their ambitions. 
WHAT CHANGES HAVE YOU SEEN WITHIN THE INDUSTRY SINCE YOU STARTED THE DESIGN FOR DIVERSITY PLEDGE, AND WHAT WOULD YOU LIKE TO SEE HAPPEN FOR MORE PEOPLE TO GET BEHIND IT?
Both Kate Watson-Smyth [from Mad About The House blog] and I are absolutely thrilled to have over 140 sign ups including Farrow & Ball, Heals, paint company Mylands and many others. We've seen a real desire for change and many small businesses have been using the pledge to offer internships and mentoring. Charlotte Raffo from Monkey Puzzle Tree had been struggling to find designers from a diverse background and with the help of the Pledge she has been able to find new diverse designers. 
We'd like the diversity conversation to continue and for big and small businesses to look at ways in which they can become diverse through their marketing, opportunities and events. I feel it's really important for the media to play a part and showcase diversity on their platforms too. We all have a responsibility to build a diverse community and uplift the voices of Black, Asian and Ethnic Minorities.
SHARE

posted on 28 May 2021 by Rukmini Patel in Interviews