Inspirational discoveries await: A journey along the silk road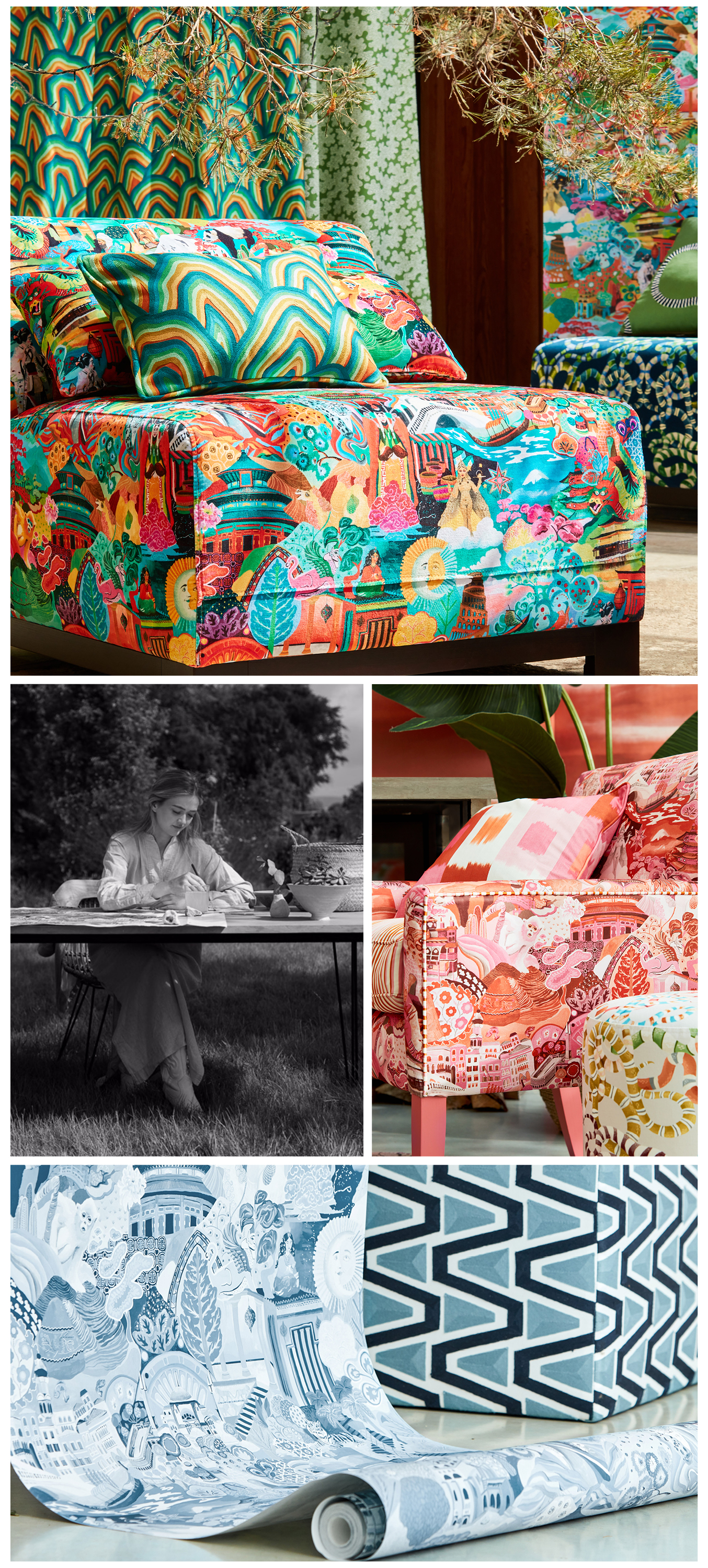 An infusion of colour, culture and pattern combine in 'Journey of Discovery' from Harlequin Colour 3. Explore your 'Rewild' side with an invigorating blend of life affirming energy and immersive Asian craft.
We sat down with Harlequin's Flora Daly as she shared the inspiration and design processes behind this spectacular hand painted artwork.
What was the inspiration behind this piece?
I have always found inspiration from the world around me and during the national lockdown my desire for travel quadrupled - suddenly all I wanted to do was explore! I began to research the Silk Road which has always been an interest of mine. Its energy, culture, myths and legends captivated my imagination, sparking an abundance of creativity. I began by building a mood board of all the countries, architecture, crafts, traditions and colours of the Silk Road and from here, the design came to life.
How long did it take to paint? Why did you choose these colours?
This piece was very detailed and took around four months to complete. I used gouache paint which is an opaque watercolour that was first used in the 16th century. Many eastern countries that were part of the Silk Road, such as Mongolia and Nepal, now use gouache paint for Sino-Tibetan art. The colours I used for this piece are authentic to the colours you'd see if trading along the Silk Road.
Can you tell us about your involvement with the factories?
We use two UK factories, which means we can always be part of the production process, from proofing new designs to selecting final colourways. The Anstey Wallpaper Company sits on the same site as our Loughborough design studio and the Standfast & Barracks factory in Lancaster produces our printed fabrics. It was so amazing to see Journey of Discovery embark on its own travels from original painting to the final fabric and wallpaper.
In 'Journey of Discovery', the Hanging Gardens of Babylon sit alongside the Tower of Babel, surrounded by geishas, goddesses and emperors, snow leopards, giant pandas and the mythical Chinese dragon. Like a map of the Silk Road, this colourful, immersive design charts our voyage of discovery in a remarkable and ornate piece of hand painted cartography. Available in three vibrant colours across sumptuous fabric and wallpaper, discover how this designs transforms any space. Watch the video here.
posted on 23 Nov 2022 in Interiors