Melanie Lissack Owns The Room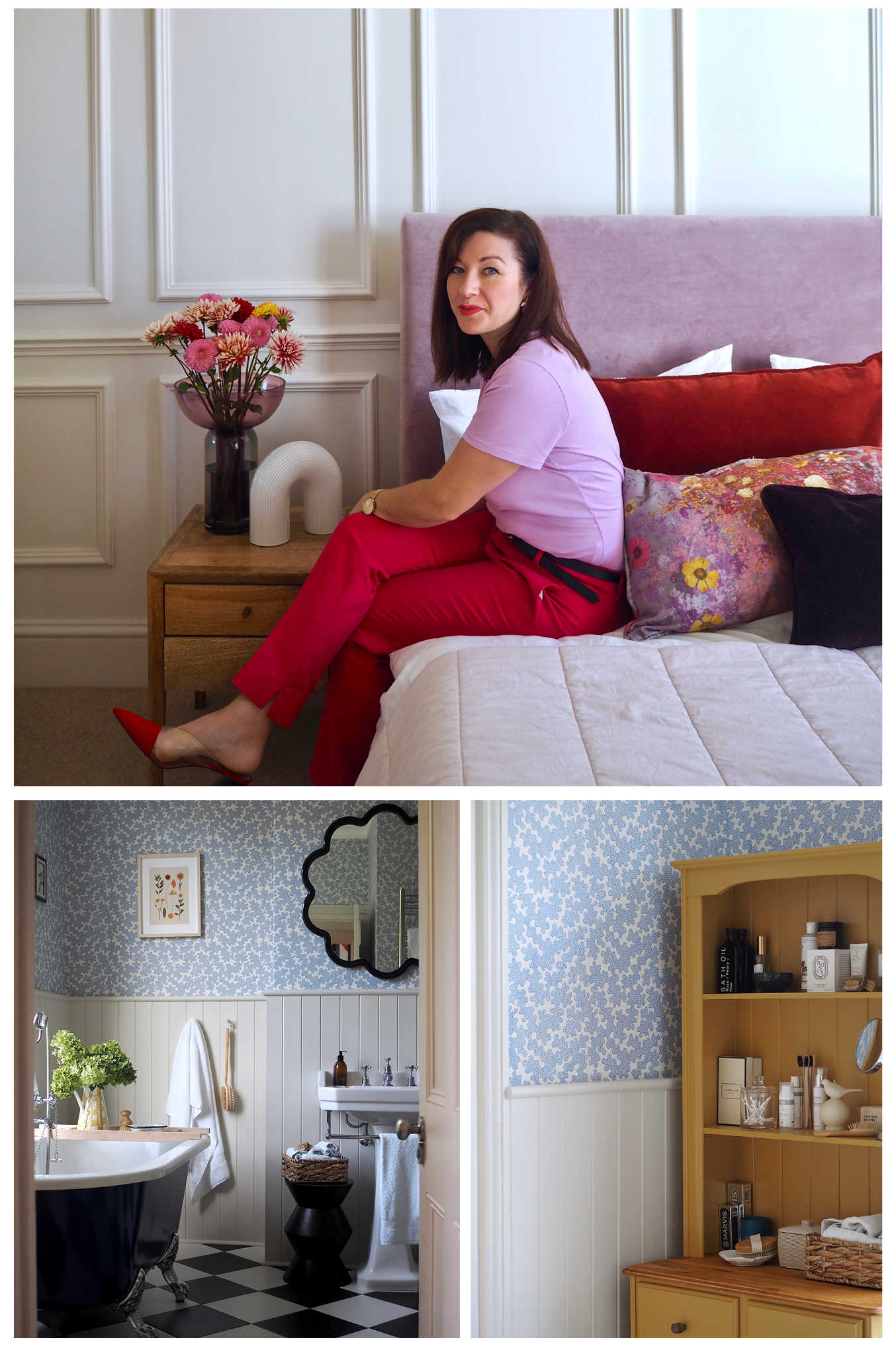 Talks Hacks, bathroom reveals and space defining décor
Combining an eye for colour with some seriously impressive DIY skills, Melanie Lissack is on a crusade to do things differently.  
We love your 'can do' attitude. Have you always been into DIY?
I've always been into transforming a space from a young age. In my young teens, I loved the programme Changing Rooms and convinced my parents to let me paint my bedroom dark aubergine, upcycle my bed in fake cow print and cover my ceiling with tin foil!!! Thankfully, my taste has matured now, but that joy in transforming a room by myself has not waned.
We're excited to see our Zori wallpaper in your bathroom.
As soon as I saw Zori I knew it was perfect for my bathroom. I love how the organic shapes that make up the coral-like pattern create visual interest without it feeling too overpowering in a room where there is also a lot going on with tiles and fittings.
Did you hang the wallpaper yourself?
Ha ha, I have to be honest here and say that my mum hung it for me! The bathroom makeover has been quite involved (including stripping out the stone floor) and I'd already done all the prep work and painting, so my mum chipped in and hung the wallpaper. Growing up, my mum did all the wallpapering in our house - she is the best wallpaperer I know and an absolute perfectionist - so I was happy to let her take the reins on that! We often team up together decorating - when she moved into her new home I did all the fixing-up and painting for her, so we often help each other out!
Do you like to keep your interiors updated?
I do, I just adore new designs, patterns and trends, so it is a joy for me to change up things at home. While I do not do complete room revamps every month, I like to change things a little bit each season. My next project is to sew some new cushions for the bed. I adore Harlequin's new Shiruku fabric in a fuschia colourway, so I am looking to use this fabric for the project.
We hear you took our Quiz and your Harlequin look is Retreat
I used Harlequin's quiz to discover my interior style and it hit the nail on the head. I am Retreat which embodies an interior style of florals, vintage, sophistication and elegance - exactly how I like to home to look!
What's next on your DIY to do list?
I plan to update my tired living room. I am looking to be more sustainable, so instead of buying a new sofa, I'm looking to recover our old one! I'm so excited as then the sofa will be completely bespoke to my taste! I'm definitely going to shop the Retreat look to find my perfect fabric!
WANT TO ADD SOME WALLPAPER TO YOUR HOME? EXPLORE OUR VIBRANT COLLECTIONS BELOW AND START YOUR COLOUR JOURNEY
posted on 28 Nov 2022 in Interiors